Search Homes and Real Estate in Belle Hall
About Belle Hall:
Belle Hall Plantation is a dynamic and desirable planned community of about 1,000 homes in Mount Pleasant, SC. Residents on Belle Hall praise the community for its convenient location, its friendly community for families and individuals, its amenities and the fact that it offers a "progression" of homes from lower priced homes to luxury homes.
Many Belle Hall kids walk to top rated local schools
Belle Hall Elementary
(public) and
Palmetto Christian Academy
(private). Older kids attend
Laing Middle School
and
Wando High School.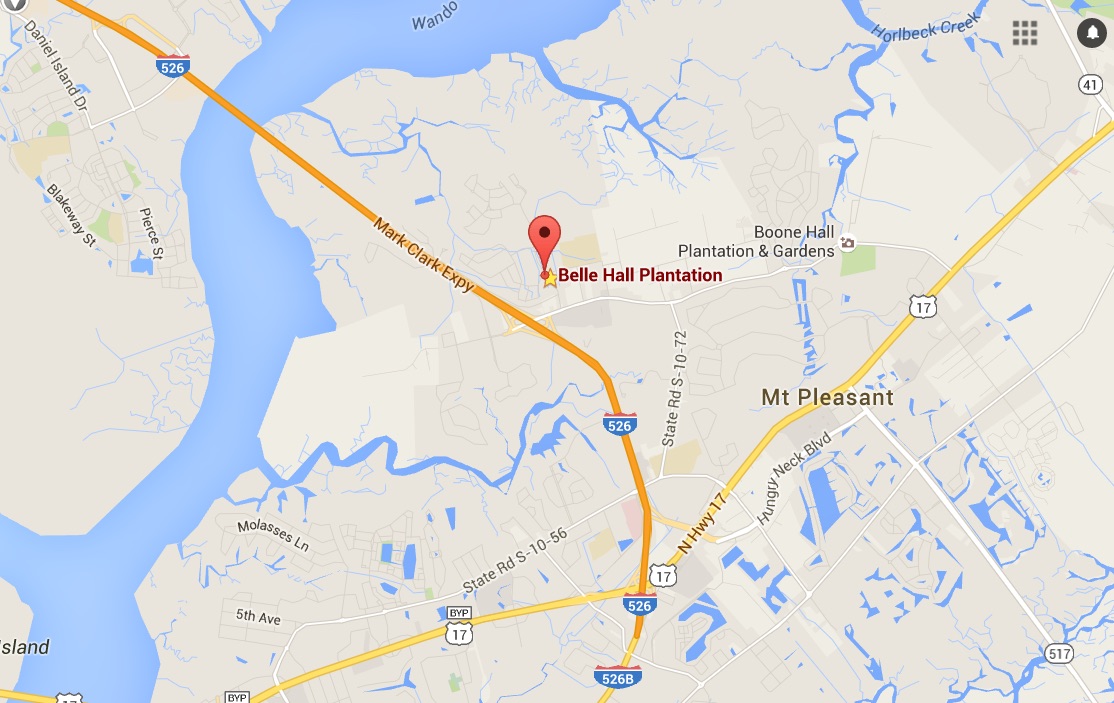 Belle Hall Plantation
Located off Longpoint Road near the intersection with I-526, Belle Hall offers convenient and quick access to Charleston International Airport, Downtown Charleston, the beaches, North Charleston (with major employers like
Boeing
) and Daniel Island (where Blackbaud and BenefitFocus are located).
Belle Hall has a diverse variety of homes, from starter homes in the low $300K's, to custom-built homes on marshfront lots in the multimillion dollar range. Like most plantations in the Charleston area, Belle Hall is price-segmented by sections - those sections closest to the entrance (Rice Bay, The Courtyard and The Veranda) offer homes on the lower price points (mid $300K's to high $400K's). Battery Point offers homes in the middle/high price range. Hibben (the only section that still offers vacant lots & new homes), Evian and The Island offer homes priced from the $600Ks.
The Real Estate Market in Belle Hall
Belle Hall has a solid history as one of the most popular and best located neighborhoods in Mount Pleasant.
The Belle Hall market has been undersupplied for the last few years. This chart shows "Months Supply of Homes for Sale" which depicts the relationship between supply and demand (total Belle Hall and by section).
Six months of inventory is considered to be a "neutral" or "balanced" market. Below 4 months is a "seller's" market (undersupplied). Above 8 months is a "buyer's" market (oversupplied).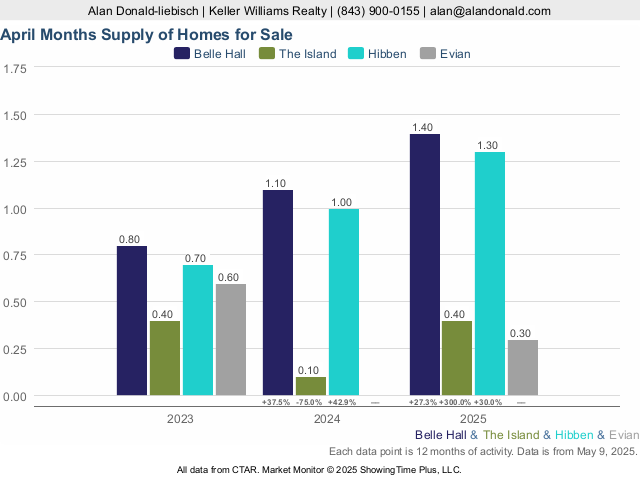 The next chart shows the median home price for Belle Hall and Hibben.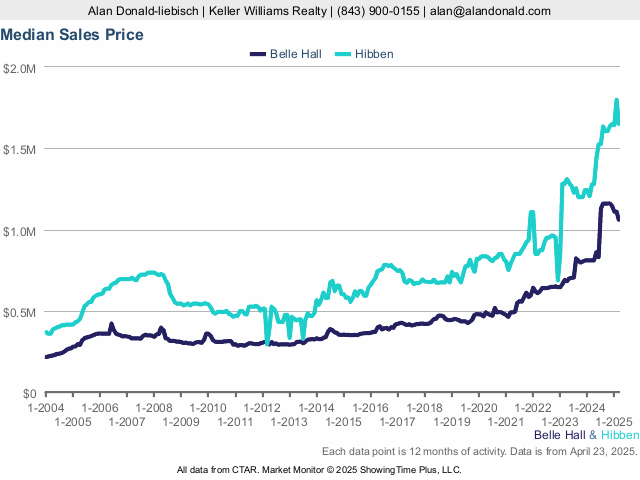 Generally speaking, prices per square foot are higher in The Island, Hibben and Evian, since these sections feature larger, custom-built homes built on premium lots.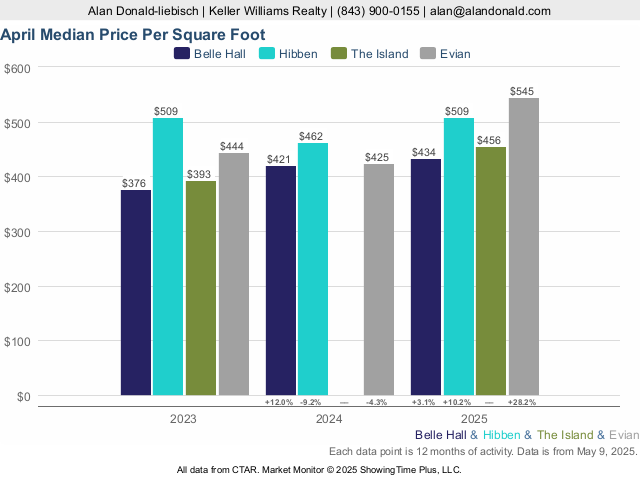 Surprisingly, the real estate market in Belle Hall has slowed down a little since the beginning of 2016. While still in short supply, homes are taking a little longer to sell. The competition from new construction homes in Tidal Walk may be influencing demand.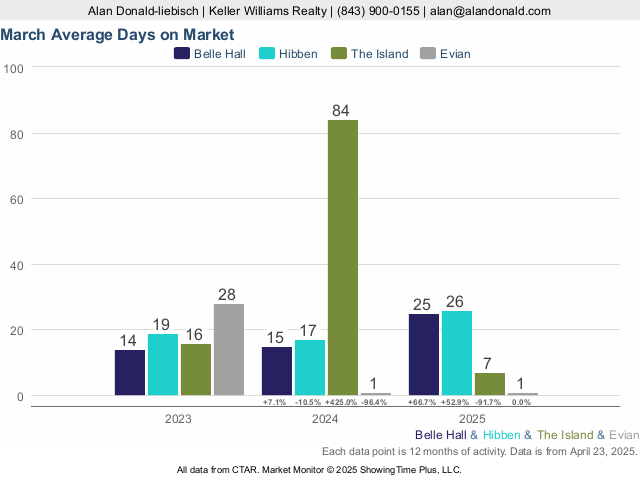 TO BUY OR SELL IN BELLE HALL, GIVE US A CALL - 843-864-3777
We are top Belle Hall Realtors and may be aware of "upcoming listings" that may never hit the MLS!
There are a total of about 1,000 households in Belle Hall Plantation, most of them are owner-occupied. The easy-going, friendly neighborhood environment is immediately palpable. There are often people walking, jogging, playing with their kids or relaxing at the pool. The subdivision has it own swimming team, and organizes many community events.
The Mount Pleasant Jones Recreation Center is also located right next door. In addition to the many amenities, Families with younger children enjoy the benefit of being able to walk to Belle Hall Elementary, one of the top-ranked public schools in the area.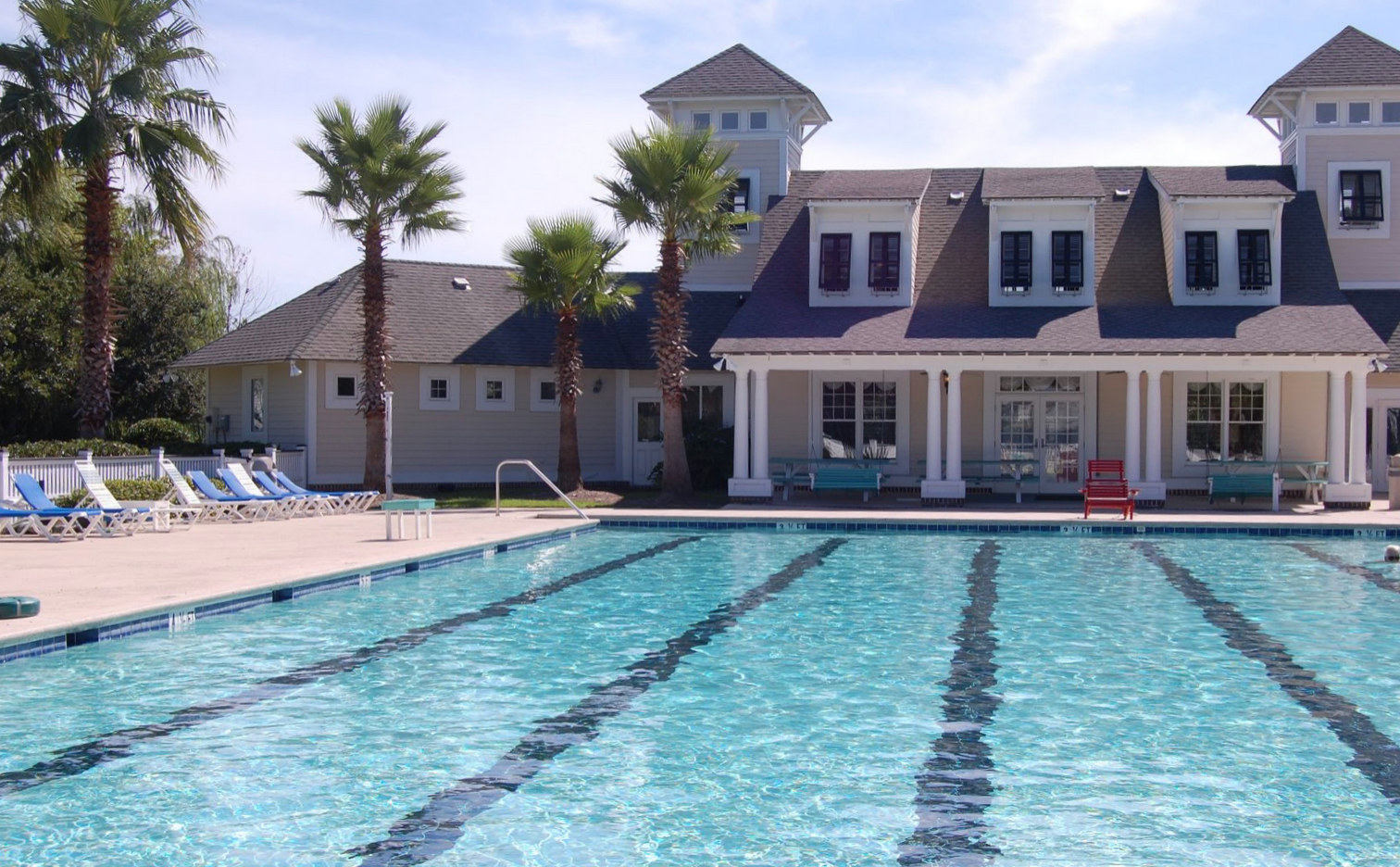 HOA Managers:
3301 Salterbeck Ct. #201
Mount Pleasant, SC 29466-7165
Contact: Jessica Gosnell
(P) 843-971-5096
HOA Fees: $560/year
Transfer Fees:
$350 to Belle Hall HOA plus
1/4 of 1% for Evian
Sub-Sections & 2014 Price Points:
Rice Bay (low $300K's to high $400K's)
The Courtyard (low $300K's to high $400K's)
The Veranda (low $300K's to high $400K's)
Battery Point (high $400K's to high $500K's)
Hibben (mid $500K's to $1.5 million) - NOTE: There are ONLY TWO APPROVED builders for Hibben: Coleman Builders and Trellis Residential.
Evian (mid $700K's to $1.5 million)
The Island (mid $600K's to $1.5 million)
Amenities:
Two Swimming Pools (with a neighborhood swim team, the "Belle Hall Sharks")
Tennis Courts
Playground
Beach volleyball court
Walking paths
In addition, Belle Hall is within walking distance to the Mt. Pleasant Jones Recreation Center, which includes a 25-meter indoor heated pool/locker rooms, - gym, supervised skatepark, lighted batting cages, playground, softball and an athletic field
Schools:
Health Facilities:
East Cooper Regional Medical Center
Roper St Francis Hospital
MUSC
Doctor's Care
Public Facilities:
Charleston County Public Library
Mt Pleasant Regional Branch
1133 Mathis Ferry Rd.
(4.5 miles from Hibben)
Phone: 843-849-6161
www.ccpl.org
Town of Mount Pleasant
www.townofmountpleasant.com
For questions about trash containers and collection, call 843-884-8518

Charleston International Airport
5500 International Blvd, North Charleston
(14 miles from Hibben, direct exit from I-526 West)
www.chs-airport.com